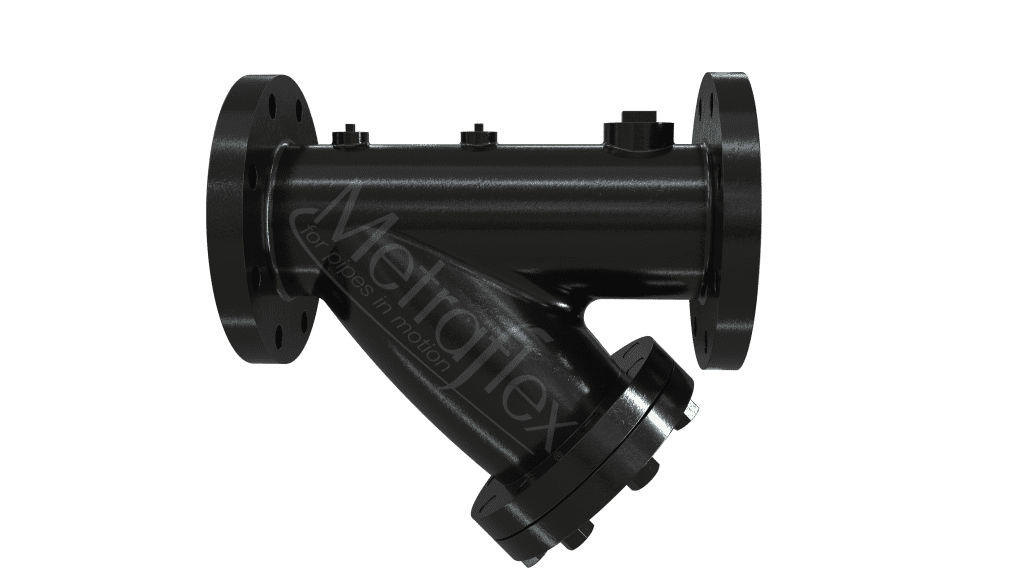 Style TF 125# Y Strainer
Strainers
Flanged cast iron strainer Pre-drilled ports The Metraflex Y Strainer prevents costly shutdowns and protects your pumps and equipment. Ideal for lower capacity piping systems, the Metraflex Y strainer works for steam, air, water, oil and gas lines. Ruggedly constructed,…
Product Description
Additional Resources
Submittals
Product Description
Flanged cast iron strainer Pre-drilled ports
The Metraflex Y Strainer prevents costly shutdowns and protects your pumps and equipment. Ideal for lower capacity piping systems, the Metraflex Y strainer works for steam, air, water, oil and gas lines.
Ruggedly constructed, it features a blow-off bottom cover for easy cleaning without removing the screen and self-aligning cylindrical screens. Stainless steel screen is standard. Available in sizes from 1/4″ thru 16″, body castings and strainer screens are available in a variety of materials, perforations and mesh linings for virtually every application.
Use for steam applications up to 125 psi at 350°F.
Use for water, oil and gas applications up to 175 psi at 150°F.
Product Highlights
Submittals
TF 125# Y Strainer Submittal
Cast Iron Flanged Strainer Style TF
METRAFLEX PART NO.
PIPE SIZE
WOG PRESSURE /
TEMP
STEAM PRESSURE /
TEMP
WEIGHT LBS
WOG SCREEN
STEAM SCREEN
SIZE OF BLOWOFF (NPT)
BODY MATERIAL
SCREEN MATERIAL
3D DRAWING
TF0200
2″
175 PSIG at 150 Deg F
125 PSIG at 350 deg F
24
.045 Perf
.045 Perf
1/2″
ASTM A126B CI
304 SS
Revit/CAD
TF0250
2-1/2″
175 PSIG at 150 Deg F
125 PSIG at 350 deg F
35
.045 Perf
.045 Perf
1″
ASTM A126B CI
304 SS
Revit/CAD
TF0300
3″
175 PSIG at 150 Deg F
125 PSIG at 350 deg F
50
.045 Perf
.045 Perf
1″
ASTM A126B CI
304 SS
Revit/CAD
TF0400
4″
175 PSIG at 150 Deg F
125 PSIG at 350 deg F
75
.125 Perf
.045 Perf
1-1/4″
ASTM A126B CI
304 SS
Revit/CAD
TF0500
5″
175 PSIG at 150 Deg F
125 PSIG at 350 deg F
125
.125 Perf
.045 Perf
1-1/4″
ASTM A126B CI
304 SS
Revit/CAD
TF0600
6″
175 PSIG at 150 Deg F
125 PSIG at 350 deg F
154
.125 Perf
.045 Perf
1-1/2″
ASTM A126B CI
304 SS
Revit/CAD
TF0800
8″
175 PSIG at 150 Deg F
125 PSIG at 350 deg F
273
.125 Perf
.062 Perf
1-1/2″
ASTM A126B CI
304 SS
Revit/CAD
TF1000
10″
175 PSIG at 150 Deg F
125 PSIG at 350 deg F
464
.125 Perf
.062 Perf
2″
ASTM A126B CI
304 SS
Revit/CAD
TF1200
12″
175 PSIG at 150 Deg F
125 PSIG at 350 deg F
562
.125 Perf
.062 Perf
2″
ASTM A126B CI
304 SS
Revit/CAD
TF1400
14″
175 PSIG at 150 Deg F
125 PSIG at 350 deg F
906
.125 Perf
.062 Perf
2″
ASTM A126B CI
304 SS
Revit/CAD
TF1600
16″
175 PSIG at 150 Deg F
125 PSIG at 350 deg F
1336
.125 Perf
.062 Perf
2-1/2″
ASTM A126B CI
304 SS
Revit/CAD